Friday, September 30, 2005
Arghhhhdamnit!
My cat bit me.
Yes, my ungrateful cat bit my left pointer finger and wouldn't let go until I hit her over the head. Oh yes, bite the frickin' hand that feeds you.
My auntie, being the health-freak that she is, insisted I go to a cat and dog bite clinic to have it treated. I agreed, since I figured the doctor will just give me some meds and I'll be on my merry way.
BUT NO.
I needed shots. Yes, shots. The ones with syringes THAT HURT LIKE HELL. I had one on each arm for anti-rabies and anti-tetanus. The anti-rabies shot was fine and dandy. But the hell-forsaken anti-tetanus shot was like being poked through the arm with a dull katana! And to make matters worse, I have to come back on Saturday to have another anti-rabies shot. And again on some other day... hell knows when.
Oy vay... The damn cat should be thankful she's adorable. Otherwise, I'd have strangled her til her head pops her lithe little kitty body.
Haaay... Please comment. I need your pity. :(
Posted by Mishhh @ 1:39 PM
4 Comments | Links to this Story
Monday, September 26, 2005
Putang Ina...
Okay, since I'm really mad, I'll blog in Taglish...
Puta matatanggal na si Vanessa Ferlito sa CSI: New York! Fo0o0otah! She was my favorite!!! She looked so well with Flack/Cahill!!! Tangina naman talaga!!! She was the best character there!!! CSI New York was my favorite because of her! They could have at least kept her for more than two seasons! Hayyyy... Wala nang matitirang maganda sa CSI aside from that bimbo, Emily Procter, from CSI Miami...
Hayyy... See this face?
She MADE CSI New York what it was :(
Posted by Mishhh @ 10:56 AM
8 Comments | Links to this Story
Saturday, September 03, 2005
Confessions of an Addict
I AM HOOKED.
There's this game, Rose, which you probabaly would already know about. I'm addicted. I told myself a long time ago that once I have to pay to play, I'll quit playing.
Well, guess what... I can't stick to that 'promise.' As sad and desperate as it sounds, I'm willing to borrow money from people just so I can play. I'm trying to convince some of my YM buddies to give me their Ragnarok cards (the same card people use to play Rose) so I can play my damn game!
Oh god/no god. I noticed that the only time I write entries is when I can't play Rose. Sorry, my dear sweet blog. But you're just second best. Well, no. Thir--Fifth? Not even.
I'm sorry my blog you are my last resort :p
Oh and, before I forget, I must say that I have been deprived of sex for more than two weeks... Damn... What a life!
Posted by Mishhh @ 7:12 PM
7 Comments | Links to this Story
Saturday, July 16, 2005
Judo Schmudo...
I just got back from Judo practice... Nadine and Patti were pissed of that some Judo guys were giving them the stink-eye for joining the Judo club just to get close to this vampon* named Oliver. Ehhh... Apparently they'r enot used to having people giving them the look. They need my apathy to withstand it. HAH.
Anywhoo, after the exhausting Judo practice, I smelled like feet. I know I should have gone home at once but nohohoho... I just HAD to go to 24.com to see if ROSE online was on. And obviously it's not because if it were, I'd be playing it and not updating my sorry excuse for a blog.
I'm bored. I don't know how I'm gonna go home or whatnot... But hey, if in any case I get lost, the last place I was would be here, the crappy-ass 24.com computer joint...
*Vampon-Vampire-hipon
Posted by Mishhh @ 5:38 PM
2 Comments | Links to this Story
Tuesday, June 28, 2005
I love school!!!
I am now a proud student of the University of Santo Tomas...

Yes, you read that right, I'm a Catholic Schoolgirl. But I'm still not Catholic (labo...). Anywhoo, I've made pretty good friends (names and pictures below.)

The only downides are the prayers before and after every class and the unbearable traffic in Espanya... Jaezus!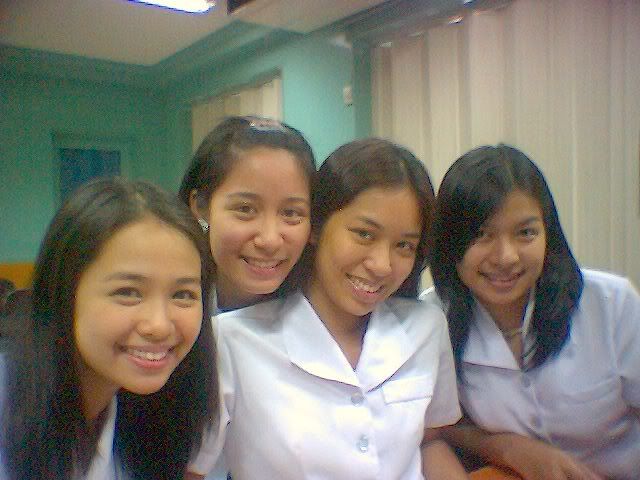 Patti-my kitty, Nadine-the floating head, Cresta-without the glasses and Iris-the tall one who can't play volleyball :p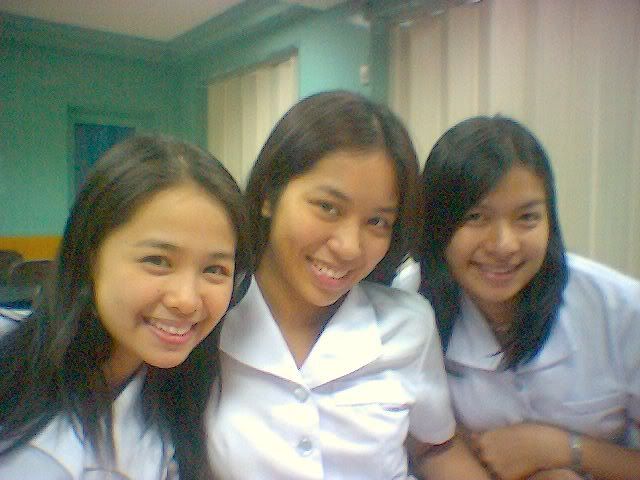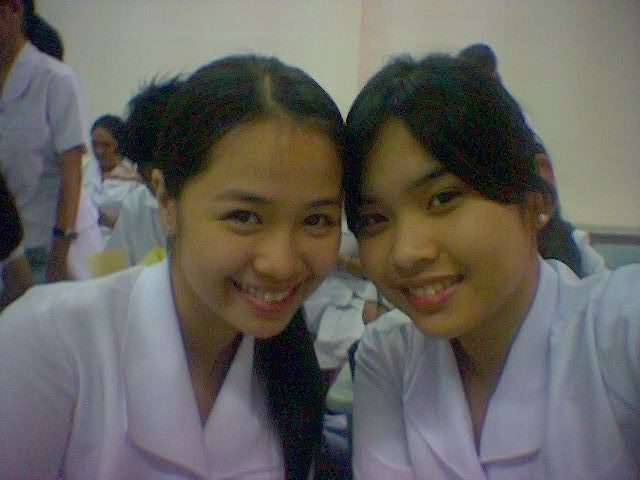 Patti and me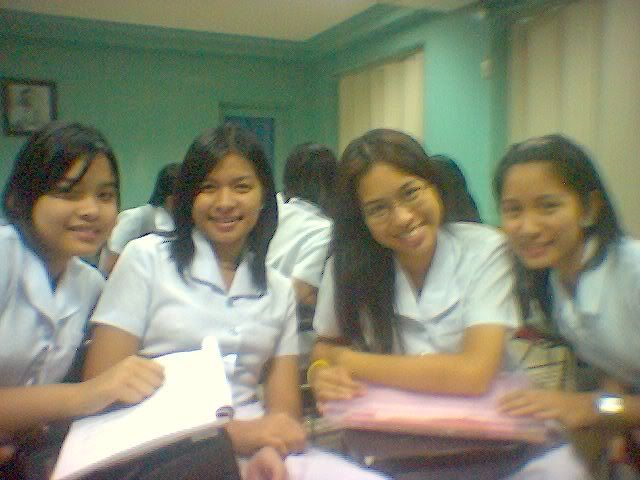 The whole shbang...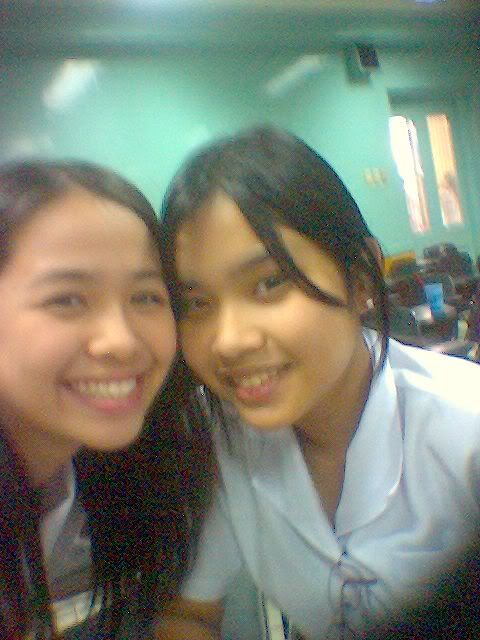 Patti and me yet again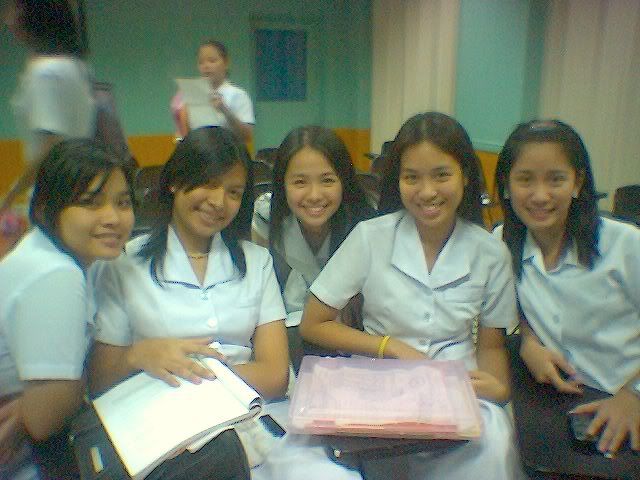 Posted by Mishhh @ 9:05 PM
1 Comments | Links to this Story
Thursday, June 16, 2005
YAY!!! New phone! :D
I am now the proud owner of an XdaII :)
(Who cares? Anywhoo...)
I've seen Mr. and Mrs. Smith and I totally loved it! Angelina is so hot. Brad Pitt was okay, I was never really a fan... The action sequences were hella nice... Especially that part where they beat each other up around the house and then screw right after. Nothing beats brutality as foreplay :p
Today is my beebee's birthday and I've been thinking of what to get him... Can it be that wallet from Bench? A pair of jeans? A burnt CD (Heck, corny!)? Or CASH! (But then again, that'd put me off as a sugar mommy... Yahahak...)
Cross the bridge when you get there. That's why I'm going gift shopping at SM. This would be so much easier if I lived near Market! Market! They have a whole wing for gifts and such...
Posted by Mishhh @ 5:18 AM
0 Comments | Links to this Story
Tuesday, June 07, 2005
I will never do this again...
The lights suddenly died out and the air felt thick. I coul donly focus my eyes on one thing: the flowers on my wallpaper. The TV was still on but the sounds were muted. The man on the screen was explaining how to make marshmallows, I was the least bit interested.
I made a call and ended up in the car. The streetlights passed swiftly across the car window.
In the hospital I lay on a gurney and there were people around me. Some strangers, some loved ones. A few minutes passed and he came, my angel. He sat beside my bed and held my hand and whispered the words he'd always say to comfort me. He cried and held my hand tighter... I knew I was going to be okay.
I will never do this again...
Posted by Mishhh @ 8:41 AM
0 Comments | Links to this Story